About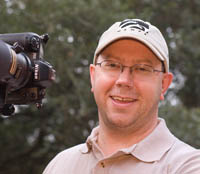 Brian Powell is a photographer, musician, and software developer based in Austin, Texas.
Besides his portrait, maternity, and family work, Brian is an experienced wildlife and nature photographer. He has studied under photographers Bob Krist, Arthur Morris, Kerrick James, Larry Ditto, Michael Frye, Rod Barbee, and David Middleton. He is a member of the History Committee of the North American Nature Photography Association. Brian was an editorial reviewer for Arthur Morris' book "The Art of Bird Photography II".
Brian uses Nikon and Fujifilm cameras, including infrared conversions by LifePixel.
Brian is a member of the Board of Trustees for Austin Opera and The Long Center for the Performing Arts, and was a founding member of Artists for Austin, an organization dedicated to creating opportunities for artists to make a difference in the Austin community. He is also a member of the board of Science in a Suitcase, inspiring kids through STEAM education.
Brian has a Bachelor of Arts degree from the University of Texas at Austin.