One day during my time in New Mexico, I drove north to find the Ladd S. Gordon Waterfowl Complex. After exiting I-25, I took a wrong turn and missed the entrance to the Waterfowl Complex. But I saw a sign for Salinas Pueblo Missions and kept on driving east about 30 miles.
The Salinas Pueblo Missions were built as part of the Spanish influence of the 16th and 17th centuries. I visited these missions on my first trip to Bosque in 2005. There are three sets of ruins, along with a visitors center in the town of Mountainair. The area is part of the Salinas Valley, named for salt flats (Las Salinas) a few miles to the east of Mountainair. The salt was a valuable commodity for trade.
The first site I came to is is Abó.
Click any image to enlarge.
Another ten miles east is the town of Mountainair, where I visited the Visitors Center for the National Monument, and ate lunch at a small hotel nearby. Then I drove north to Quarai, another site of the National Monument.
On this trip, I did not visit the third site, Gran Quivira, which was about 25 miles south of Mountainair. But I did visit that site in 2005. Here are scans of a couple of photos I took on film on that visit.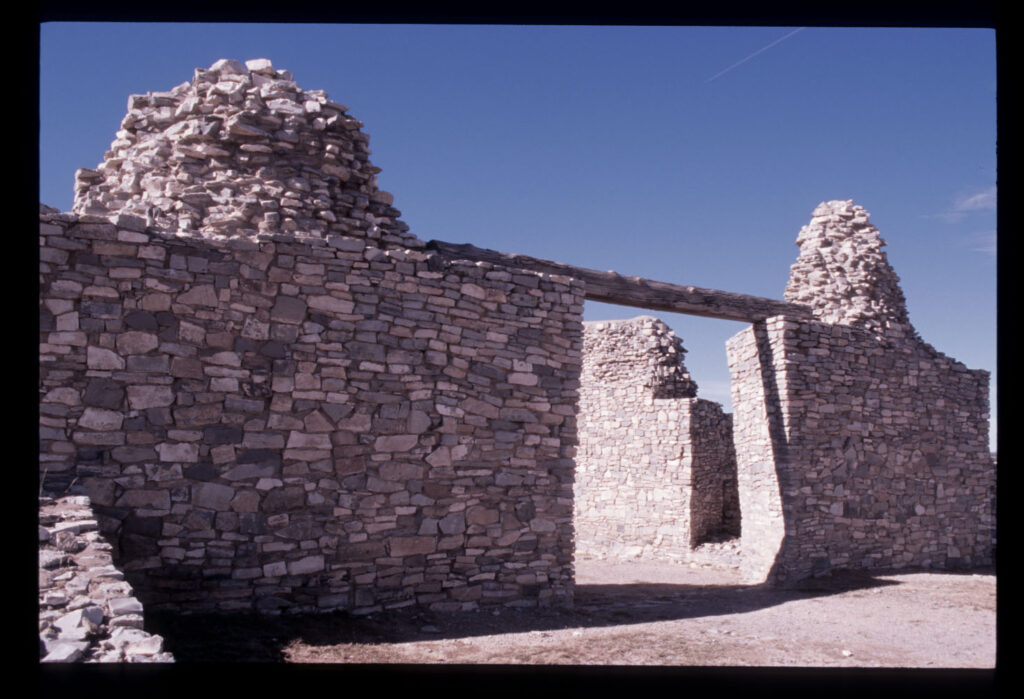 On the way back from Salinas Pueblo Missions, I did find the correct road that took me to the Ladd S. Gordon Waterflow Complex. See my earlier post for photos from the refuge.
---
This reminds me that I never wrote about a trip I made to Pecos National Historical Park in 2021, so let me briefly write about it here.
Pecos National Historical Park is east of Santa Fe, New Mexico, along the historic Santa Fe Trail, a vital trade route between Missouri and New Mexico. The park encompasses historic pueblo ruins as well as a US Civil War battlefield. Pecos Pueblo was inhabited from the 14th to 19th centuries.
A few miles west of the pueblo is Glorieta Pass, the site of the westernmost battle of the US Civil War. It was fought mostly between Union infantry and cavalry from New Mexico and Colorado Territories and Confederate troops from Texas.
The battlefield itself is not particularly photogenic, though the mountainous area is beautiful. There's a 2+ mile loop around the site with signage to help you imagine how the battle unfolded.