Valles Caldera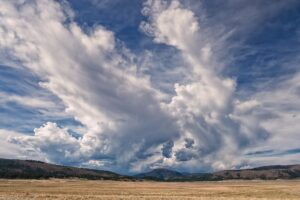 A couple of weeks ago, I spent a week in New Mexico. I flew by way of Dallas. Thanks to the pandemic, it was my first time on a plane in over a year. The flights were terrible—two were delayed, the flight from DFW to ABQ was diverted to El Paso for the night, and the final return leg to Austin was cancelled entirely. I don't think that everything in the airline industry is ready for our return.
I've been to New Mexico many times in the past. In winter, I'm usually visiting the Bosque del Apache National Wildlife Refuge, but I love summertime, too, for hiking, for opera, for shopping, for food. I still have several places in New Mexico I've wanted to visit and photograph. One of them is the Valles Caldera.
(Click on any image to enlarge.)
Formed by a volcanic eruption over a million years ago, it is still geologically active with mudpots, fumaroles, and several nearby hot springs. Inside the caldera are grass-covered valleys dotted with volcanic domes. The entire caldera is over 13 miles across, so it's difficult to really capture the spirit of a place so large. You can drive across it on a gravel road, which I did. There's also fishing and hiking. I had hoped to do some hiking, but wasn't able to time my visits early enough in the day to avoid the monsoonal afternoon thunderstorms. Nevertheless, the dramatic clouds allowed for some great photography.
(Click on any image to enlarge.)
In the map below, the yellow boxes represent the locations where I took photographs. The towns of Los Alamos and White Rock are on the east side of this map. Bandelier National Monument and Kasha-Katuwe Tent Rocks National Monument are to the southeast.
As I often do, I brought my Nikon D300, converted to infrared by LifePixel.com (affiliate link). I love using the infrared camera in bad weather.
(Click on the image to enlarge.)
In this case, I think many of the visible light photos (using my Fujifilm X-H1 camera) are just as dramatic in the bad weather. Use the slider in the image below to compare visible and infrared. Which do you prefer? Please post your answer in the comments to this post.
Just to the southwest of Valles Caldera, along New Mexico Highway 4 near Jemez Springs, is a Soda Dam made of calcium carbonate and travertine. A couple of people in the water show the scale.
As I mentioned at the beginning, I think it's really hard to capture the "spirit of place" of Valles Caldera. This is a term that one of my photography mentors, Bob Krist, uses. When I return to this National Monument, I will find time to visit some of the geothermal features, and hike up some of the volcanic domes. I hope to find different perspectives that add to the story of all that Valles Caldera is. I look forward to going back.