Annular Eclipse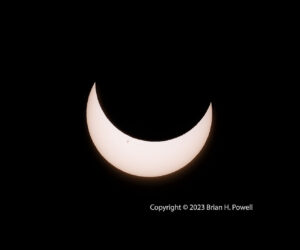 I got up early this morning and drove southwest of Austin to take photos of the October 14, 2023 Annular Eclipse. I first drove to Kerrville, because NASA was livestreaming from the Kerrville River Fest. There were some high clouds I was worried about, but it was clear to the north and there was a northerly wind. I waited, but they didn't seem to be going anywhere. About 45 minutes before the eclipse was to begin, I decided to head west where it looked very clear. I probably would have been fine to stay in Kerrville, but I didn't want to chance it.
I ended up at a convenience store at a highway intersection south of Junction and west of Kerrville. The red dot on this map shows my location, along with the path of the eclipse. A couple of dozen other eclipse watchers were in the same area.
Click to enlarge.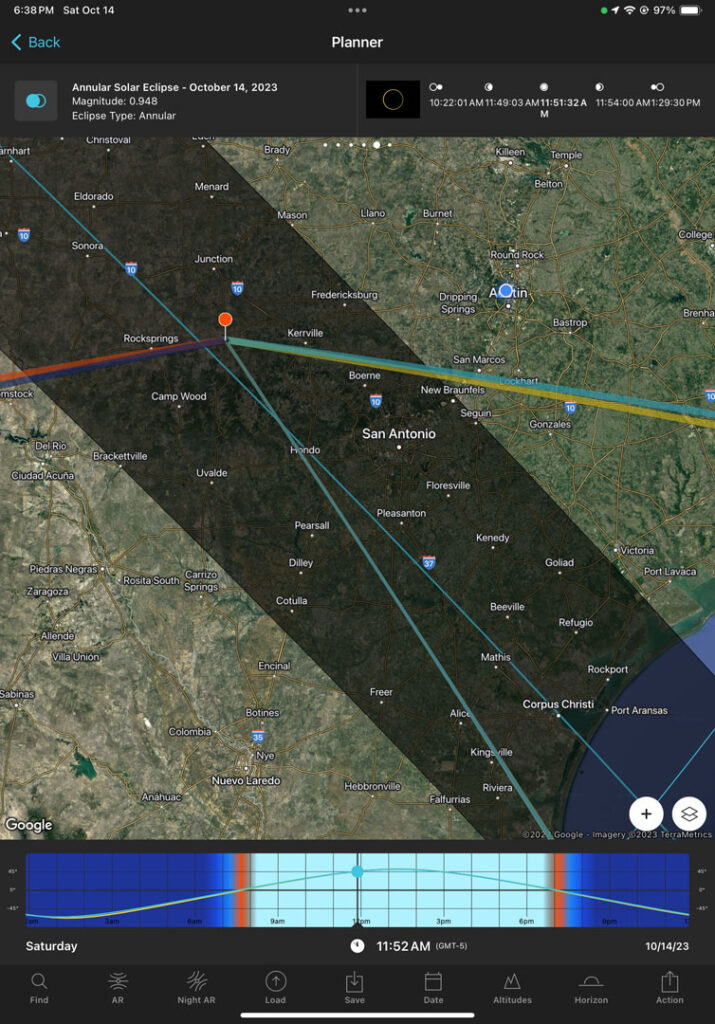 I set up two cameras… a Fuji X-H1 with a 100-400mm f/4.0-5.6 with a 1.4x teleconverter, and a Nikon D810 with a 70-200mm f/2.8 with a 1.7x teleconverter. Both had Nisi 100x100mm 16.6-stop solar filters. The longer focal length of the Fuji (840mm at 35mm equivalent) was the clear winner, even with half the megapixels of the D810. That's what I expected, but I was treating this as a dry run for the full solar eclipse that's coming to central Texas in April 2024, so I wanted to experiment. I'll try to use a longer lens on the Nikon next year.
It was a long drive, but a fun excursion. Below are some of the photos from the Fuji.
Click to enlarge.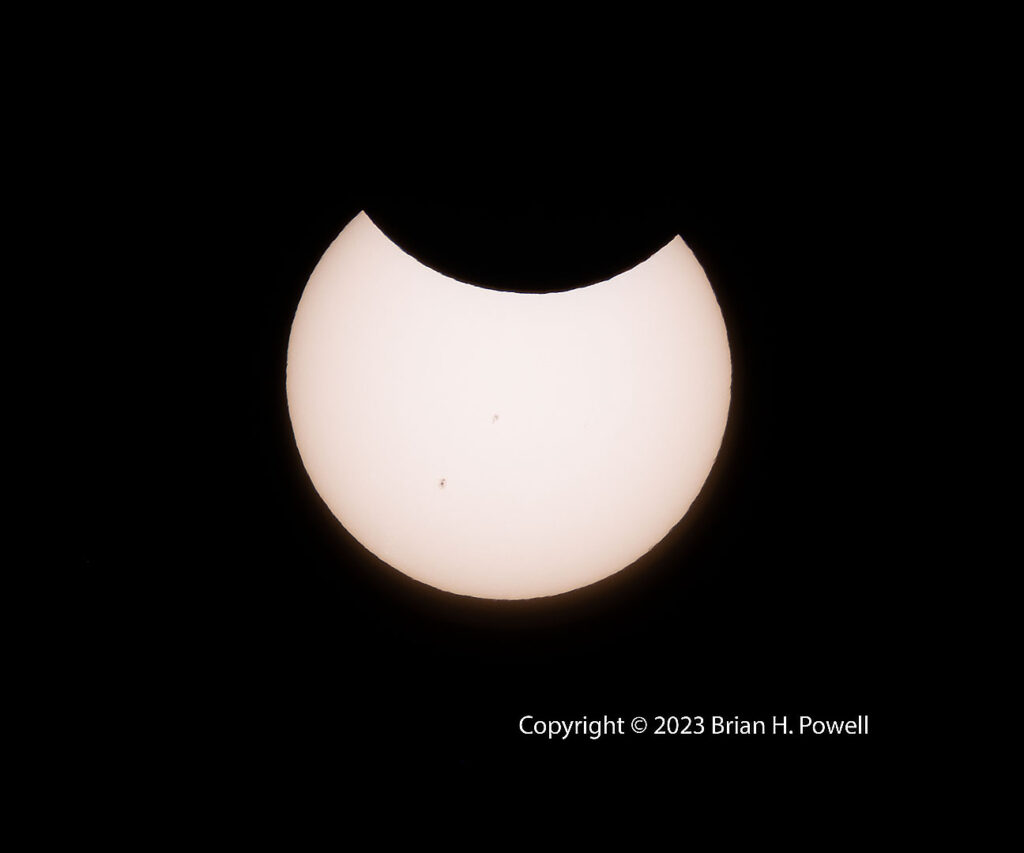 Addendum: More Thoughts on Gear
I used two solid tripods–a Manfrotto 3221W and an Induro CLT304L. For both tripods, I normally use a small center post because the legs of the tripod give plenty of height for terrestrial viewing without needing to raise the center post. But for the eclipse, I installed center posts that I could raise 6-8 inches so that I could view the back of the camera without having to stoop down. It's a small thing, but if you're standing around for a couple of hours taking photos, it's a nice ergonomic comfort.
I learned this because I practiced with all my gear a few days before the eclipse. I wanted to make sure I knew how well the filters worked, how to focus, etc. If you're planning to photograph a new situation, I encourage you to practice.
Because I practiced, I also decided that my main camera (in case, the Fuji) should be on a fluid video head instead of a regular ball head. I used a Manfrotto 701HDV head, which allows for smoother movements as I readjust where the sun is in my frame every few minutes. On my other tripod, I used my Really Right Stuff BH-40 ballhead–which was fine, but not as smooth for making small adjustments with the weight of a DSLR and mid-sized telephoto lens. I would have loved to have a motorized star tracker mount, but I don't do enough astrophotography to warrant that.
I also set up both cameras for GPS. In the case of the Fuji, it's as simple as pairing it with my phone over Bluetooth and using the Fujifilm Camera Remote app. For the Nikon, I use a Dawn Technology di-GPS Pro. This not only adds geolocation information to my image files, it also synchronizes the camera's clocks to GPS time. Among other things, this makes it easier to sort photos from multiple cameras by time after I've downloaded them to my computer.