From the 63rd parallel in Kantishna, it took several flights and a seven and a half hour train ride to get back to Austin over the course of 24 hours.  When we left Kantishna, it was about 42 degrees.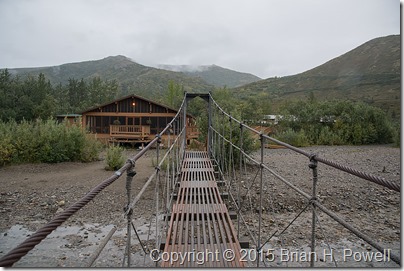 Rather than take the six-hour bus ride from Kantishna back along the park road, we opted for a 40-minute flight with Kantishna Air Taxi.  Fortunately, the weather held out for us—cloud ceilings of 2000 to 3000 feet AGL meant that we could fly about 1500 to 2000 feet above the ground and get a good view of the tundra and wildlife on our way back to the Denali Depot.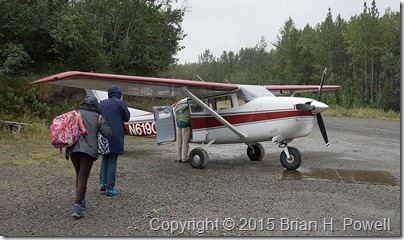 Our Cessna U206D Super Skywagon, built in 1969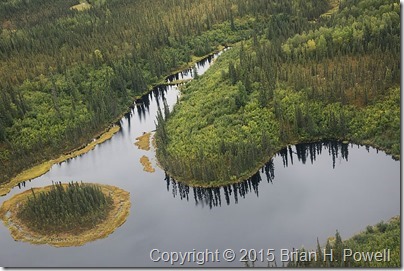 In the lower right of the photo above, you can see the bus used by Christopher McCandless, who was attempting to live off the land by himself before he perished.  He was the subject of Jon Krakauer's book, Into the Wild.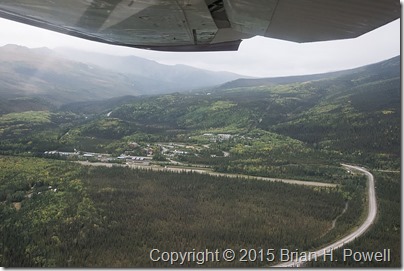 Denali Depot and the main Visitor's Entrance to Denali National Park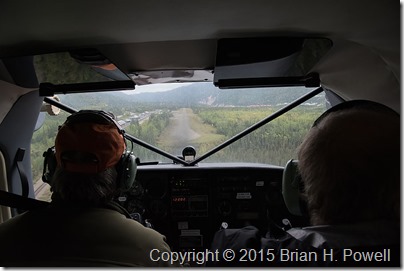 Coming in for our landing at Denali Depot
After arriving at Denali Depot, we boarded the Alaska Railroad southbound for our return to Anchorage.  We had beautiful scenery along the way.
We spent the night in Anchorage before our long flights to Texas.  When we arrived in Austin, it was 101.
I'll probably create another blog post in the next few days to cover a few things that didn't fit into my earlier posts.  Stay tuned.