For one important reason, I put a lot of thought into what to take on this trip:  weight.  The charter aircraft from Anchorage had a weight limit, and we were bringing a lot of heavy camera gear with us.  So, I got out the kitchen scale and started weighing lenses, camera bodies, tripods and heads, and even my photo backpack.  The weight limit required a lot of compromises.  In the end, I chose about 30 lbs. of photo gear to bring with me…
| | |
| --- | --- |
| Weight (lbs.) | |
| 7.5 | Nikon body and lenses |
| 6 | Fuji body and lenses |
| 6 | Tripod & head |
| 6 | Backpack |
| 4.5 | Computer, memory cards, chargers, tools, etc. |
| 30 | Total |
I put all the gear into my Lowepro Nature Trekker AW backpack (a model which is now discontinued).  "AW" means all-weather; it has a built-in rain cover I could use when needed.  With the unpredictability of Alaskan weather, this seemed like a good idea.  Here's how I packed everything in.  (I ended up replacing the 80-200 with an 80-400.)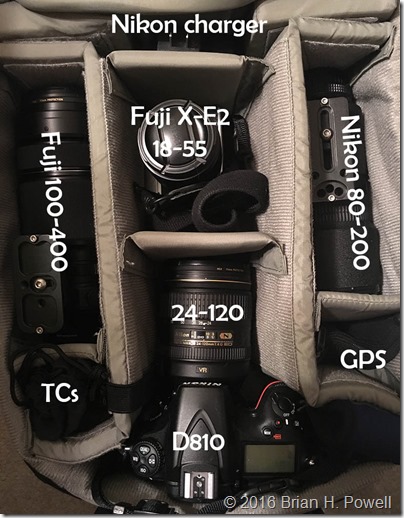 As you can see, I took two camera systems:  Nikon DSLR and Fujifilm X-series mirrorless.  I considered going all Nikon or all Fuji—even waffling back and forth a week before the trip.  By taking both, I got to test both camera systems in nearly identical circumstances, and compare how they performed.
For the Nikon system, I brought…
D810 full-frame body
24-120 f/4 lens
80-400 f/4.5-5.6 lens
For the Fuji system, I brought…
X-E2 APS-C body
18-55 lens
100-400 f/4.5-5.6 lens
1.4x teleconverter
When we were out with the bears, we had to keep all our gear with us—no leaving it in the ATV trailer where bears could find and chew on it.  We were thus discouraged from taking too much gear out into the field.  I'd typically take one body with one long lens.  If I took the Nikon with long lens, I'd sometimes take the lightweight Fuji with the 18-55 lens for landscapes.  I ended up not taking the backpack or the rest of the gear into the field after the first day.
The vast majority of the time, I used the Nikkor 80-400 and Fuji 100-400, and I thought each was a good choice.  I didn't use the 1.4 TC after the first day or two; on the APS-C body, the effective 150-600mm focal length without the TC was more than enough.  On the Nikon, I rarely wished I'd had either an APS-C body or teleconverter.  The Fuji 100-400, in particular, is a superb lens—hand-holdable up to five stops, and without the vignetting problems of the Nikkor 80-400.
I rented the Nikkor 80-400 from borrowlenses.com.  I felt like this was a great deal—12 days for less than a tenth the price of buying the lens new, and the 80-400 is a specialty lens I wouldn't normally use in my other shooting.  Let me know if you're planning to rent from borrowlenses.com; I can likely get you $20 off your first rental.
I brought along my di-GPS Pro receiver for the Nikon body.  This GPS receiver, from Dawn Technology in Hong Kong, plugs into the Nikon and geotags the images.  Then, in Adobe Lightroom, you can view a map of where you took your photos.  (The numbers represent how many photos I took in each spot.)
(Click any image to enlarge.)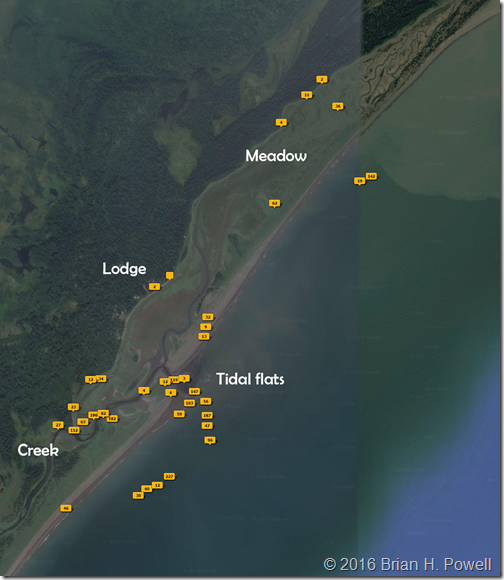 As you keep zooming in, you can see more and more detail.  Here's the mouth of the creek, where the bear fish and clam much of the time.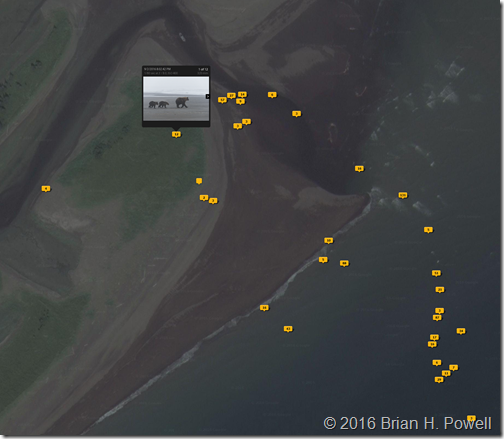 As I mentioned above, I was curious how the two camera systems fared compared to each other.
The summary is that the Nikon DSLR is clearly a better camera than the Fuji X-E2.  It's also bigger, heavier, more expensive, is faster, and has more megapixels.  But the X-E2 also did a great job, too.  With a slight edge towards the Nikon, the number of "keeper" photographs was about even between the two cameras, as were the total number of photographs out of the thousands I took.
One key speed difference is that the Nikon has buttons readily available to adjust ISO, autofocus, and almost every other camera setting.  On the Fuji, many settings are behind menus that you have to navigate through.  I was not as familiar with some of the lesser-used Fuji options at the beginning of the week, and by the end of the week, I had learned how to get more out of the Fuji than I could at the beginning.  I started and ended the week still loving both cameras.  I think you could take either kind of system and come back with great photographs.
Would I recommend that anyone take two different camera systems with them to Lake Clark?  No.  But I would take two bodies—one as a backup for the other.  I'd also recommend taking a couple of lenses:  First, a 100-400 lens, ideally with a 1.4X teleconverter.  The Sigma 150-600 lens would be an interesting alternative.  Second, I'd take a shorter landscape lens—a 24-70, or 24-85.  A 100mm lens is too long to do much in terms of landscapes, or snapshots that help tell the story of your trip.
Rounding out my photo gear choices, I brought my Induro CLT304L tripod, with a Really Right Stuff BH-40 ballhead.  I briefly considered my alternate, smaller, lighter-weight tripod, a Gitzo G1027 Mk II (no longer available, but similar to the Mountaineer Series 0 tripod).  I'm glad I took the larger tripod; I would have been frustrated by the low height of the smaller tripod—and probably frustrated by having a somewhat less sturdy platform.  I absolutely love the RRS BH-40 ballhead; I've had mine for years.  I use Wimberley and RRS plates for my cameras and lenses.
One final note on other tools to bring along…  I brought a small folding hex (Allen) wrench set, useful for adjustments to the tripod mounting plates.  I forgot to bring anything to clean the camera sensor, and I started out the week with a noticeable piece of dust on my sensor.  Fortunately, one of my traveling companions had brought his blower (I use a Giottos Rocket Blaster), and I borrowed it one day at lunch.  I'd bring at least two, and preferably three, batteries—maybe more depending on how efficient your cameras are, and how much you shoot.  It's convenient to swap out batteries at lunch for a fresh set.
I brought a small laptop computer with a large internal hard drive, along with a memory card reader so that I could back up my images every day.  The memory card reader failed—but fortunately, I had the right cables for connecting the computer directly to the cameras, so I backed up that way.  Having a computer also let me see how well I was doing at capturing photos, since I could view the images full size.  As an example, I could tell that my Fuji photos at the beginning of the week were great when the bears were relatively still, but the Fuji did a terrible job of continuous autofocus when the bears were running as they fished.  By adjusting to use only the mechanical shutter (instead of the electronic shutter), and by switching from single-point focus to wide/tracking focus, the action photos got a lot better by the end of the week.  I'd never really thought about those choices before.
Do you have questions or comments (or even suggestions) about my gear?  Please comment below.