After a late night photographing the eclipse in Monument Valley, we awoke Tuesday ready to move a couple of hours south to Canyon de Chelly, near the town of Chinle.  There are really three canyons:  de Chelly, del Muerto, and Monument.  Native Americans have been living in these canyons for centuries.  Canyon de Chelly is unique in that it is a National Monument that is jointly administered by the National Park Service and the Navajo Nation.
As with Monument Valley, most sites require being accompanied by a Navajo guide.  Our guide helped us learn a lot about the difficult Navajo history of the canyon.  Spain, Mexico, and the United States all fought the Navajo here over many decades.
There are many ruins and significant rock formations in the canyon.  Ansel Adams made a famous photograph of the White House Ruins.  Desert varnish streaks the canyon walls in many places throughout the monument.  Here's an infrared version I shot from the rim.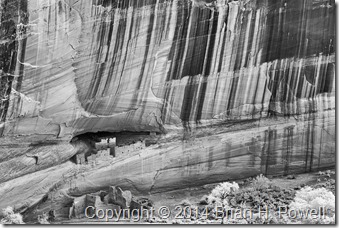 Another famous location is Spider Rock, which is the legendary home of the Spider Woman.  This spire reaches 750 feet above the canyon floor.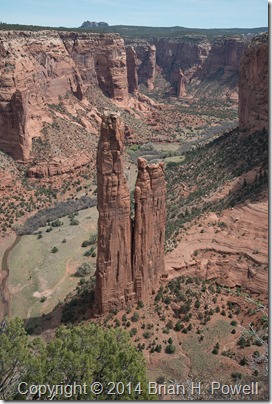 While we were there, federal fire crews were burning piles of invasive Russian Olive and Australian Tamarisk trees near the White House Ruin.  I could feel the heat on the rim as it rose from the canyon floor several hundred feet below.
In the canyon, we saw many petroglyphs and pictographs.  Here are a few examples…
As we worked our way up Canyon del Muerto, I made this infrared photograph of the cottonwood trees, with the cliffs in the background.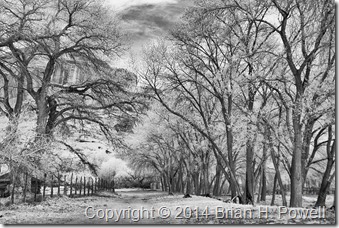 Our furthest point up-canyon was Mummy Cave Ruins.  Here are two images made there.  The first is HDR, and the second one, infrared.
After breakfast on Wednesday morning, we said goodbye and went our separate ways.  Thanks to David, Alice, and John, for making this a wonderful adventure.  Happy trails!