Last weekend, I had the great privilege to visit a friend's ranch near Kerrville, Texas, with a few other photographers.
We were hoping for partly cloudy, interesting skies.  Instead, it was overcast and misty much of the time.  But this didn't prevent us from going out and photographing.
One of the tricks I learned from Bob Krist is that when the weather's bad, you can usually wait until a few minutes after sunset, and the sky will go blue.  I also used a little flash to kick a little light onto the Texas flag.  (Click on any of the images to view them larger.)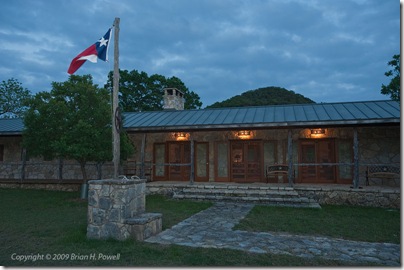 Another trick I've learned is that infrared can make overcast skies look pretty interesting even in the middle of the day.  I have a Nikon D200 that I've converted to infrared (at lifepixel.com).
I took the infrared idea a step further.  I used the intervalometer built into most Nikon DSLRs, and set it up to take a photo every couple of seconds for a few minutes, and then converted these images to a video with Adobe Photoshop Extended.  (As expected, the "HQ" button below noticeably improves the video quality.)
On Saturday afternoon, we had a few hours of sun, where the infrared images get really interesting.  Here's the back porch of the ranch house…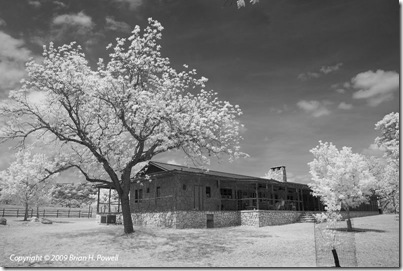 And in this infrared shot, I've left the colors that come straight out of the sensor.  There's a hint of blue left in the flag, and I like the overall sepia tone.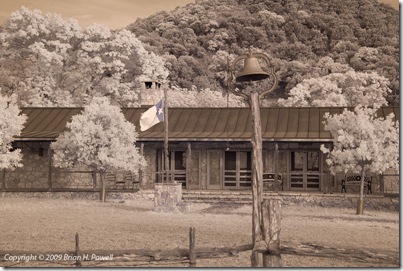 One morning, we hiked up one of the hills to an area that overlooks the ranch house.  There's an old Madrone tree part of the way up.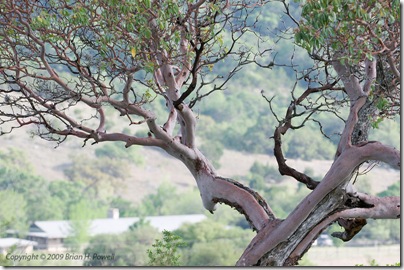 The hillside opposite the front of the house was covered in wildflowers, especially Damianita.  Here's a fisheye view of several hundred flowers.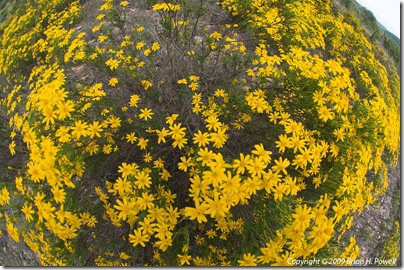 The Prickly Pear cactus were also beginning to bloom.  Here are some near the old corn cribs.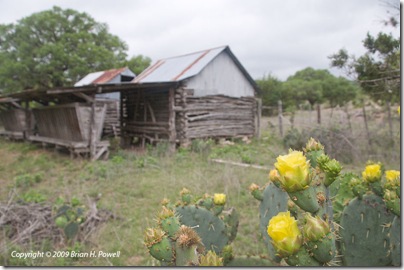 On our last morning at the ranch, we decided to try to find a golden-cheeked warbler.  We never found one, but I did get this photo of an Ash-Throated Flycatcher.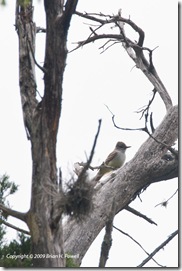 Here's a photo of John Wheat, in search of the elusive warbler.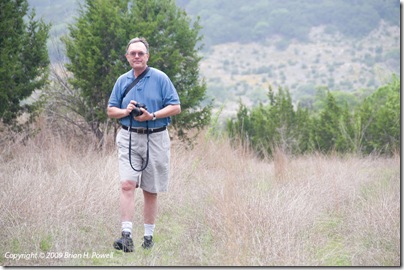 And here's a shot of my buddy Copper.  She is a city dog who loves being a ranch dog, too.  She's on a diet.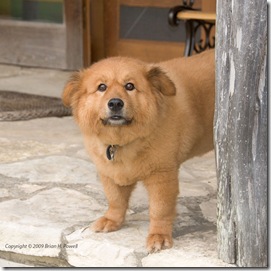 It is a tradition that every group that visits the ranch gets their picture taken by the bell, so here's our gang.  We're smiling, but a little disappointed that our ranch adventure had to end so soon.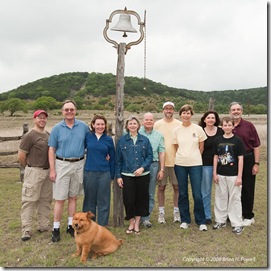 Thanks for a wonderful weekend!