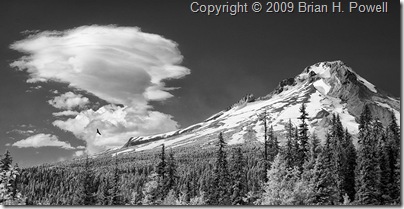 (Click to enlarge)
Friday was a long day of driving, across the state of Oregon from south to north.
I stopped near Bend to visit the Newberry National Volcanic Monument, which includes a caldera, lava flows, cinder cones, and other volcanic features. I hiked through the Lava River Cave, a mile-long lava tube.  The temperature inside is about 40 to 45 degrees.  You could rent lanterns, but I just used my headlamp.  Occasionally, when I was out of sight of other visitors, I'd switch off my headlamp to experience the cave in pitch black, listening to the drips of water.
I kept driving north to Mount Hood (shown above), including a stop at Timberline Lodge.
From there, I drove into Hood River and met up with my friend Tricia and several of her friends for drinks and dinner.