Monday morning, we awoke at 5:30 AM to subdued winds and temperatures in the high 30's.  It wasn't calm, but it was less windy than the evening before.  The sky was almost clear.  We drove about 2/3 of a mile east of our campsite for a good view.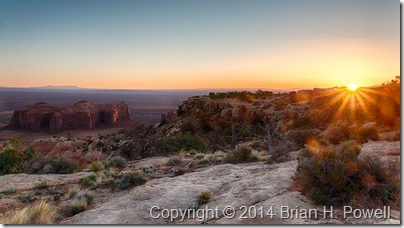 (Click to enlarge.)
The image above and the next image are (lightly processed) HDR images, where I combined a couple of different exposures to get a little more highlight and shadow detail.  In the image below, you can see the formation called the Totem Pole on the right center of the frame.  It's about 420 feet tall.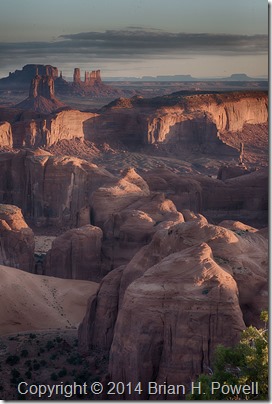 In the next image below, I've highlighted the view back towards The View hotel.  This was taken with my Nikkor 80-200 f/2.8 lens at 200mm.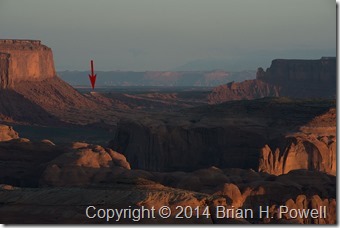 Here's the shot in Photo Transit, which says that the hotel is about 6.7 miles away, with Utah in the distance beyond.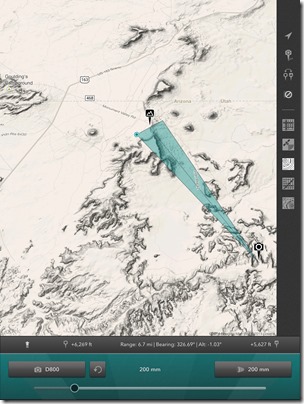 As the sun rose higher in the sky, we packed up our photo gear and drove back to our campsite for breakfast, then packed up the camp for the long drive back to Monument Valley.  We enjoyed hot showers and a nap when we got back to the hotel.
Early Tuesday morning was another event we were looking forward to: a full lunar eclipse.  I thought about going out late to do some light painting, but couldn't really scout out a good location for it.  (I learned light painting technique from Michael Frye in Yosemite.  He wrote a blog post about his eclipse photography.)  I ended up staying at my hotel and shooting from the balcony.
First, a shot of the full moon rising beyond Merrick Butte.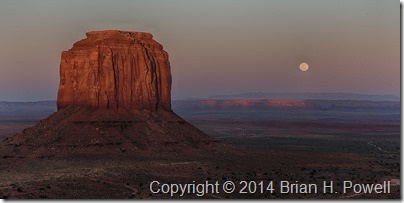 I also tried a 10-second exposure at ISO 6400 to try to capture the Mittens with the stars.  There's a little too much light pollution for this to be effective.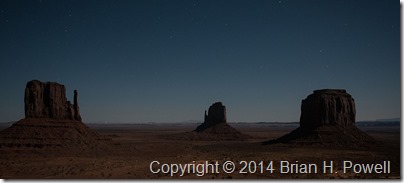 I didn't bring my big lens on this trip; the longest I had was a 200mm.  Still, I did manage to capture this image of the "blood moon" during the eclipse.  Mars is to the lower right of the moon.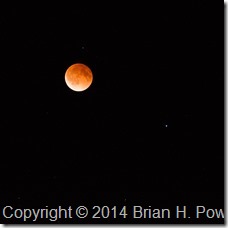 The landscape lost light as more of the moon was obscured, so I decided to try to capture a video of the stars in motion.  Each of these images was a 5-second exposure at ISO 6400, and they were made about 20 seconds apart.  For best viewing, watch it on YouTube in full screen with the highest (1080p) resolution.
I have to admit I just started the intervalometer with the camera on a tripod and went back to bed for a while.  In the video, you'll notice a couple of airplanes fly by.  I was lucky enough to have a meteor show up in one of the frames, seen below.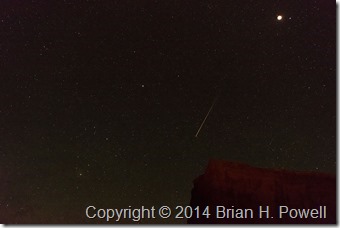 The next day, we traveled to Canyon de Chelly.  More on that in the next blog post.