I apologize for not posting in a few days.  Our days have been full, and the internet less than speedy and reliable, so updating the blog took a back seat.
In Skagway, we took the White Pass and Yukon Route Railroad to White Pass, briefly crossing into Canada before returning to Skagway.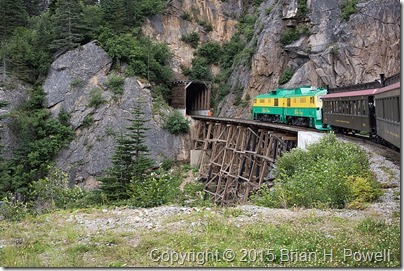 The next port of call was Sikta, where our good weather karma started to run out.  Our last day at sea met swells up to 18 feet, and winds up to 50 knots, as a large storm passed from west to east, as we went through in the opposite direction.  This same storm caused significant flooding in Sikta the day after we were there.
In the photo below from somewhere in the Gulf of Alaska, note the relationship between the horizon and the boat.  Our motion sickness patches worked great, though.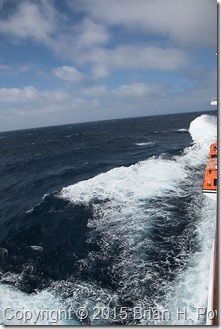 One of the highlights of our trip so far was a stop at Happy Trails Kennels, home of Martin Buser, a four time Iditarod champion.  We loved the excitement of the dogs, playing with some 10-week-old puppies, and sitting in Martin and Kathy's home talking about dog training philosophy.
We next worked our way up to Talkeetna, where the good weather karma returned.  Denali is only visible about 30% of the time.  Many people come to Alaska and stay for days without seeing it.  Here are a couple of photos from Wednesday evening and Thursday morning.  These are from about 60 miles away.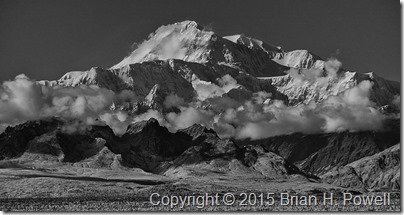 Tomorrow, we will probably be off the air for a couple of days in the Denali Backcountry.  More when we return.