I'm back in Austin now.  I chose not to keep up with the blog as I went.  A combination of 16+ hours of light for photography each day, lots of travel time, time with friends, and a little bit of allergies all conspired to help me choose sleep instead of half-hearted writing into the night.  But I'm back, and have four more blog posts in the works after this one.
Sunrise each morning was about 5:50 AM, so I'd get up every morning about 5:00 and head out to see what the sunrise would bring.  We never had any truly spectacular colors in the morning, but it was still beautiful to be in this amazing place to see how the sun would first light the mountains.
Click on any image to enlarge.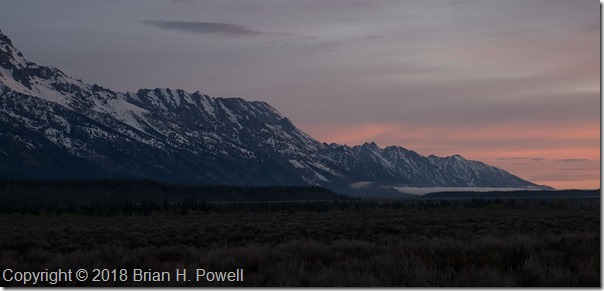 Balsam Root, the yellow flower in the foreground of the photo below, was blooming in many places in the valley.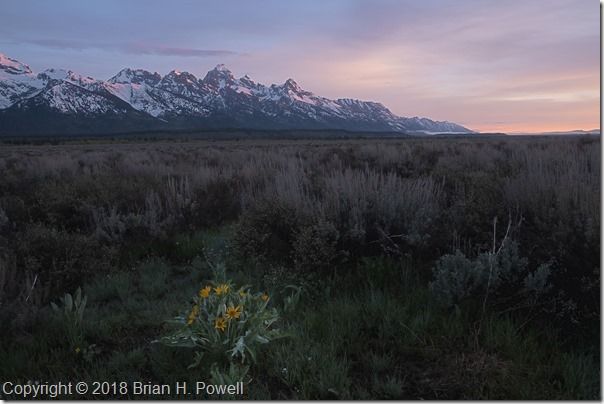 Some mornings would start with fog in low-lying areas.  Clouds in the mountains were constantly changing.  This infrared photo is from the same day as those in my earlier blog post about the Snake River Overlook.  It was taken about fifteen or twenty minutes before the images I posted last week.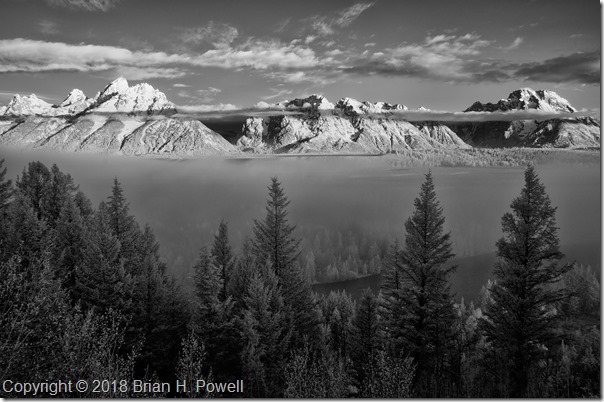 I dropped by another couple of famous places for photography.
Oxbow Bend, below Jackson Lake on the Snake River often has still water in the mornings, great for reflections of Mount Moran, and to its left, the mountain known, at least for now, as Mount Woodring.  (And further left are Mount St. John and Rockchuck Peak.)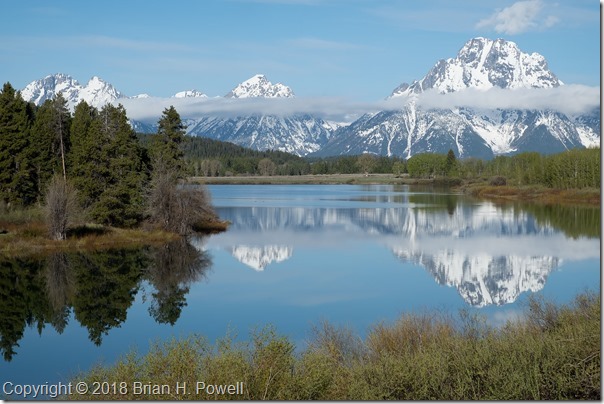 Mormon Row is a section of Grand Teton National Park that I suspect most people don't visit, but is famous among photographers.  A group of Mormons from Idaho homesteaded here beginning in the late 1800's, and lived here through the mid-1900's before being sold to the National Park Service.
Perhaps most famous is the Thomas Alma Moulton barn, shown below.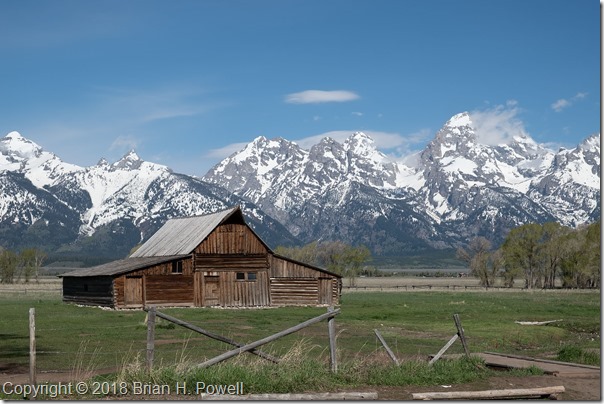 I didn't do much hiking this trip, but I did take an easy five-mile hike on Tuesday up to Phelps Lake.  This is where I saw the moose in my earlier blog post about Grand Teton Wildlife.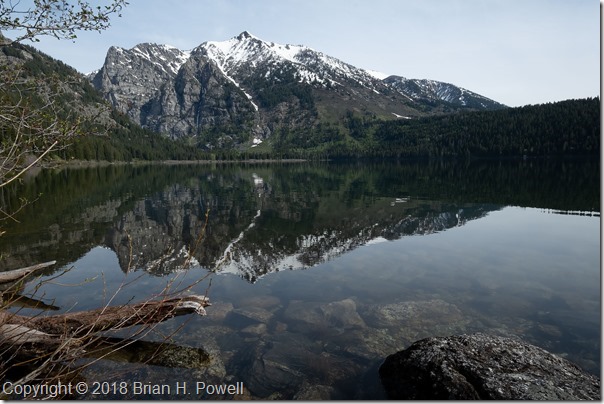 Here's the GPS track for the hike.  It's part of the Laurance S. Rockefeller Preserve in the southernmost section of Grand Teton National Park.  This section was donated by Laurance S. Rockefeller to the National Park Service in 2001.