Sedona
Thursday, I was in Sedona, Arizona.  I went on a short two-mile hike (on an injured leg—bummer) to a large sandstone arch named Devil's Bridge, in Coconino National Forest. Here's a view along the way.  I hope to post some HDR images of the arch later.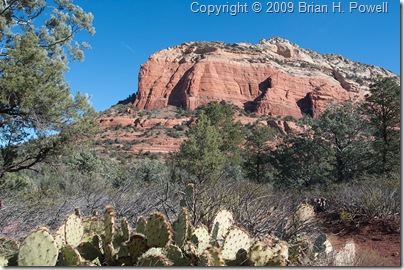 I also visited the nearby town of Jerome.  Once a huge copper mining community, it is now known for its artists and art galleries.
Finally, I ended the day at the Sedona Airport Scenic Overlook for sunset.  Thin clouds have been coming in during the late afternoons, and the sunsets haven't been that spectacular.  However, I do like the clouds in this infrared shot.