Fallingwater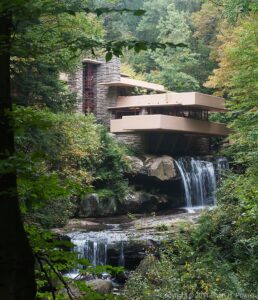 I've spent the past week in Pittsburgh, at a conference and visiting some professors at Carnegie Mellon University and the University of Pittsburgh.  Today, I escaped the city—Pittsburgh's a great city, by the way—and did a little sightseeing in southwestern Pennsylvania.
I visited the Flight 93 National Memorial and the Johnstown Flood Museum.  But most of my time was spent at Frank Lloyd Wright's masterpiece, Fallingwater. There's a hint of fall color just beginning to appear—this part of the country is beautiful.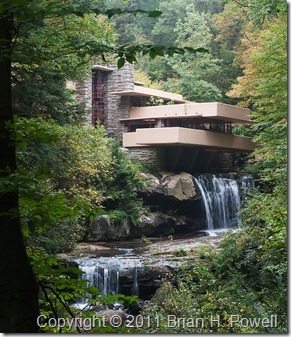 A year or so ago, I visited Taliesin West.  Both it and Fallingwater have an enormous sense of fitting exactly into their surrounding environments.  Taliesin West sitting perfectly in the desert of Arizona, and Fallingwater belonging no other place than along the stream called Bear Run in Pennsylvania.