Bosque del Apache National Wildlife Refuge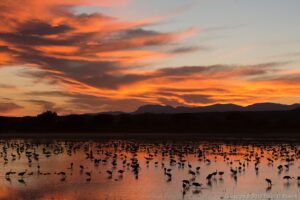 For the first time in four years, I made it back to Bosque del Apache National Wildlife Refuge.  I arrived this afternoon, and had a couple of hours of sunlight to try to come up with a plan.  Each year at the Bosque is a bit different—the refuge managers change things up every year.  I drove around the entire refuge to see where the crops are growing, which fields are flooded and which are dry, and see where the birds are hanging out.  There are a lot of potentially good spots for sunset, but on any given day, only a couple are likely to pay off.
I knew that sunset was likely to be pretty spectacular; there were several high clouds in the western sky. I chose one of the areas on the east side of the refuge where it looked like I'd have a clear view of sunset, with several hundred sandhill cranes in the foreground.
I was a little nervous as people left just before sunset—did they know something I didn't?  I stuck with the decision to stay at my location and see what was going to happen.  As the sun went down, there were some nice pale oranges in the sky, but I had a feeling that the colors were going to get better.  I waited.  A couple more people left.  I waited.  And then a hint of color in the clouds, and a bit more, and finally…
It was worth the wait.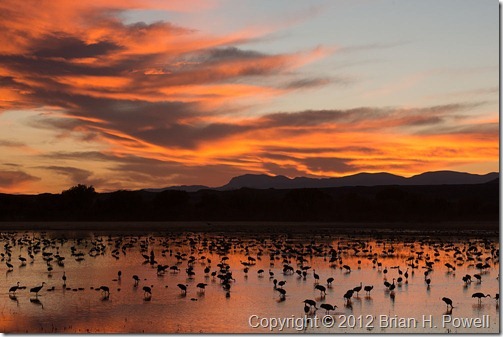 This evening at a restaurant in Socorro, I ran into Arthur Morris, one of the world's best bird photographers.  It was good to see him, meet his workshop co-leader Denise Ippolito, and see his workshop participants.  You can read more about Artie in this blog post I wrote in 2008.
That's it for now; I'm hoping for a great sunrise in the morning.