Hiking in the Dolomites, Part 5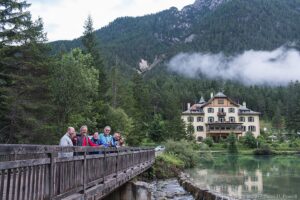 (This is my 100th post on this blog.  Thank you all for reading.)
The morning of July 1, we left Selva/Wolkenstein for Lago di Dobbiaco.  I kind of think of this as a rest day between our weather-challenged hike from yesterday, and the 8000-foot-elevation hiking of tomorrow.  We also swapped out our guides–trading Hayden for Jake, who would be with us until the official end of the trip.  Both guides provided by AlpineHikers were excellent.
As we drove over to Dobbiaco, we saw many bicyclists preparing for the following day's Maratona dles Dolomites, an 85-mile bike race with nearly 14,000 feet of elevation gain.  (The winner averaged 18.6 mph.)  Nearly 30,000 cyclists apply each year for one of the 9,000 starting positions.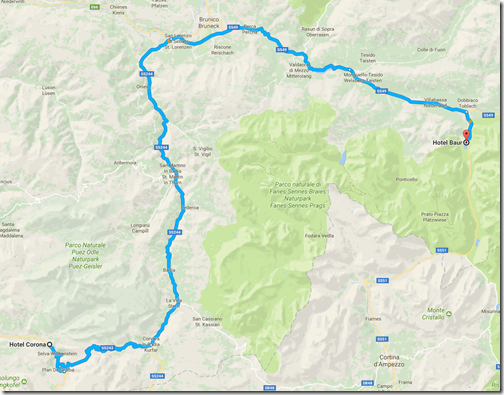 We checked into the116-year-old Hotel Baur, which sits right on the lake.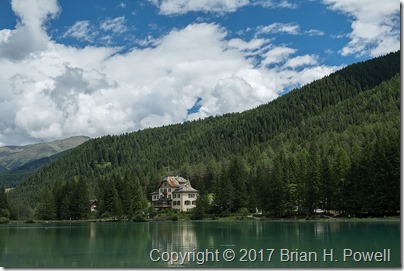 (Click on any image to enlarge.)
We walked around the lake, then I settled on a view facing south for most of my images.  We played around with reflections, and slow shutter speeds as the water flowed over a dam at the north end of the lake.  Here's an infrared photo from late in the day.
Here's a group shot of all of us on a bridge near the hotel.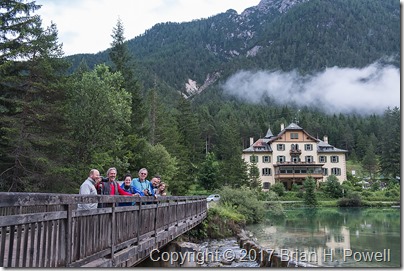 The next morning, we drove into the Tre Cime Natural Park and began our hike to Rifugio Locatelli.  Stay tuned for more.