Summer Trip Day Two, Yosemite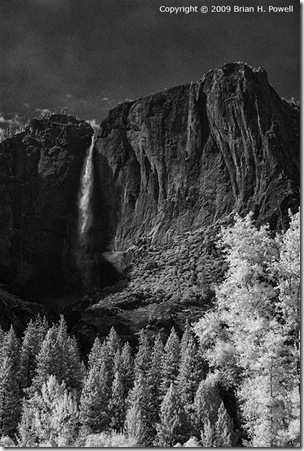 I drove down to Yosemite today—my first time visiting this park.
I like to get to know a place before I try to get serious with my photography. I spent some time at Tuolomne Meadows, and some time in Yosemite Valley. In the valley, I took some of the iconic shots that you've seen from other photographers. Of course, as I mentioned in my earlier post, if it's in Yosemite Valley, somebody's taken the photo before.
I am doing something a little different—I brought my Infrared Nikon D200, and trying a few infrared shots. The image above is an infrared shot of Upper Yosemite Falls in afternoon light, converted to black and white with Nik Software's Silver Efex Pro.
I also brought along my video camera. I'm not good at video yet, but I'm working on it.
Tomorrow is another day in Yosemite.