Summer Trip Day Fourteen, Goldendale and White Salmon
I almost didn't take any photos today.
I went for a hike at a state park near Goldendale.  (It was raining in the mountains, and Goldendale is far enough west that it's in the rain shadow of Mount Hood.  Lots of sunny days.)
I didn't see anything that inspired me, so I left the cameras in the backpack.
It was a nice walk in the woods, which let me do some thinking and clear my head.
When I came back to White Salmon, I remembered that I wanted to try some infrared shots of the old buildings on my friend Trish's property.  So yes, I did take some photos today.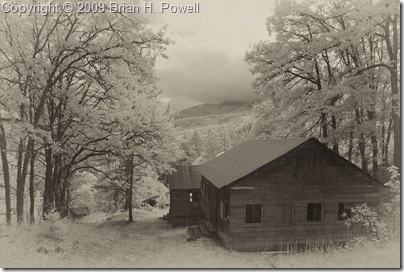 (Click to enlarge.)
Tomorrow I head home.  In the next few days, I'll have another blog post summarizing my thoughts about this trip.