Hawaii, Day One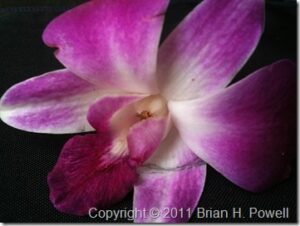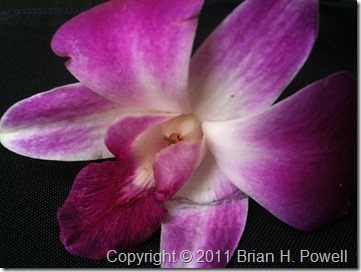 Aloha from the island of Kaua'i.  I arrived this afternoon after nine hours of flying from Austin.  I didn't do much photography today; just trying to cope with the five-hour time difference, the travel, getting settled in… I did take a few photos with my iPhone.
But let me back up for a minute.
Before I started this trip, I asked a few of my friends to send me some words to inspire topics on this blog.  I asked for non-concrete words—I think I used "love" and "laughter" as examples.  Anyway, I got some great responses, and I will try to use some of those words in my blog over the next several days.
Today's (iPhone) photo satisfies several of the words ("purple" comes to mind), but the word that I want to apply here is "elegance".  This flower, which came with my lunch, is imperfect, yet very elegant.
I have friends like that.  Amazing people with everyday shortcomings, insecurities, and flaws.  It's wonderful to overlook those things, and build incredible, supportive friendships with people who are beautiful in their own, unique, elegant ways.  And thank you to all my friends who are willing to take a chance on me for those friendships—to overlook my own shortcomings, insecurities, and flaws.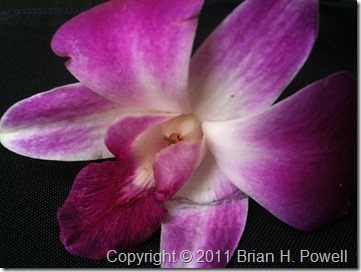 I plan to be back tomorrow with another image, and another word of inspiration.