Hiking in the Dolomites, Epilogue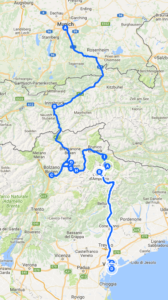 Thanks for reading this series of posts.  I wanted to say a few final words.
First, about the location: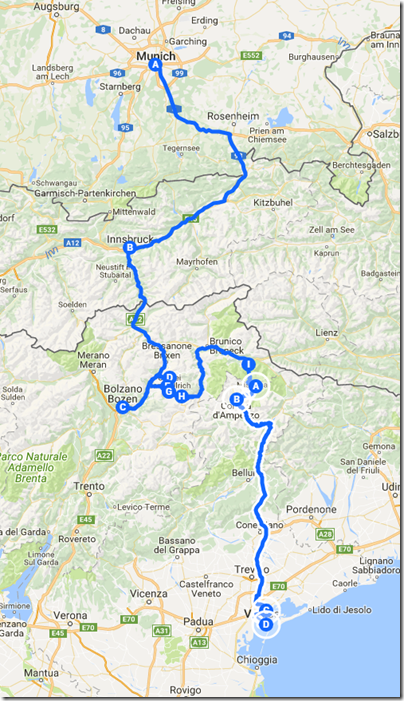 I'd been to Munich many times before, but everywhere else was new to me.  I loved everything about northern Italy—the scenery, the hiking, the people, the mix of cultures, the food, the wine, and even the fact that everything seems to run just a few minutes behind schedule.
Second, let's talk about gear.
I don't usually talk much about clothes on this blog, but a few items were so good I want to call them out:
All were both comfortable and functional, which is what you want in travel wear.
For photo gear, I had to trim weight because I would be carrying it all on my back for many miles.  This was different than last fall's trip to Alaska, where the biggest consideration was the weight limitation for the charter flights to and from Lake Clark.  Once I was at the lodge in Alaska, I never had to carry my gear very far.
In years past, I would have carried all Nikon full-frame gear—I was seriously considering bringing a Nikon D810, 17-35mm f/2.8, 24-120mm f/4, and 80-200mm f/2.8.  But, as I've expanded my Fujifilm mirrorless collection over the last couple of years, the lighter weight Fujifilm X-T2 seemed like a better alternative.  The weight difference between Nikon and Fujifilm in body and equivalent lenses was about 4 pounds.  For the entire, fully-loaded photo backpack, the Fujifilm system allowed for a sizable 20% reduction in weight.
I also don't think I was giving up anything in terms of image quality.  The Nikon has more megapixels, but the Fujifilm is an excellent camera, too—especially for landscapes.  I'd still choose the Nikon over the Fujifilm for sports or bird photography, but I wasn't doing any of that in Italy.
The next consideration was how to carry all my photo gear, including my tripod, and the things I'd need at the mountain huts—toiletries, rain coat and pants, an extra layer for warmth, extra camera batteries and memory cards, a pack cover, etc.
After a little research, I found that a backpack I already owned would be a good option, the Lowepro Fastpack 350.  It has a lower padded compartment for camera body and lenses, and an upper compartment for whatever you can stuff in there.  One major downside of the pack is that there's no consideration for a tripod.  I attached my tripod by putting the feet into the small mesh pouch on the side of the pack, and attaching a small bungee cord to the pack's top handle, and wrapping it around the top of the tripod.  This worked well enough, though it wasn't entirely secure.
I also wished that my pack had a rain cover.  To make up for that, I bought the REI Co-op Duck's Back Rain Cover – 40 Liters, which I used several times.  It was a worthwhile investment.
For camera gear, I carried:
All of the gear was used extensively.  Total weight, including the pack, was about 17 lbs.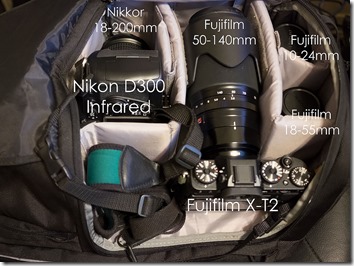 I want to give a plug for the Really Right Stuff BXT2 plate.  Up until a couple of weeks before the trip, I was just planning to use a generic Wimberley plate for the camera.  The one annoying thing is that you have to remove the plate to get to the battery compartment.  I went ahead and bought, with a few days to spare, the BXT2, which is constructed in a way where you can still access the battery without taking off the plate.
There was one interesting little feature to the BXT2 which I initially considered a gimmick.  The plate has a slot and a magnet to hold an Allen wrench in place.  When one of the other photographers asked, "Hey, does anybody have an Allen wrench handy?", I was able to immediately pull it out.  The gimmick is actually a pretty handy feature that I grew to appreciate.
You'll note that I chose to bring a pretty small tripod—maybe four feet tall at its maximum.  There were several times I'd wished for my larger tripod, but there were many more times I was glad that I wasn't carrying the extra weight.  (My large tripod weighs almost double what my small tripod weighs.)  One thing that helped me cope with the small tripod was the X-T2's bidirectional tilt-screen display.  I didn't have to kneel down to look through the viewfinder; I could tilt the screen up in either portrait or landscape orientation, and compose more easily standing up when I wanted to.
I did have one gear failure near the end of the trip.  On the morning of the hike to the Locatelli hut, I noticed a small 1" tear along the seam of the upper part of the backpack.  By the time I got to the hut, it was 3"-4" long, and by the end of the trip, the tear was about 5"-6" long.  The backpack wasn't really designed for two camera bodies, so it probably suffered from having the extra weight.  It sufficed to get me home, but I'm going to have to replace this backpack now.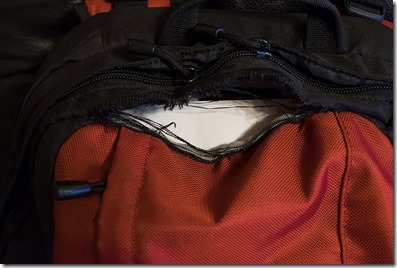 Finally, I want to give a plug for Kerrick James and KJPhotoSafaris.  Jen and I have done several photo trips together, and we've kind of outgrown the "photo workshop" experience.  We self-organized our trip to Alaska's Lake Clark National Park last year, and Jen's family has self-organized many trips to Africa through the years.
But Kerrick's trips are different.  First, Kerrick and Julie are genuinely nice people who are pleasant to be around.  Second, Kerrick is a top-notch, working photographer.  As such, he's learned to be a problem-solver… "The weather's terrible, so here's what we're going to do to make the most of it."  Third, it feels more like we're all collaborating.  Kerrick shares his valuable and experienced perspective on the scenes before us, but he is also keenly interested in our own points of view and the images we're able to create.  It's very much a feeling that we are all teaching and learning together.
So, if you're an intermediate to advanced photographer looking for an active photography trip, check out KJPhotoSafaris.  You'll end up in a great place with great people.
Thanks to my friends, new and old, that were part of this trip.  Thank you for being teachers.  Thank you for the camaraderie, and for the bad jokes occasionally punctuated by a good one.