Hiking in the Dolomites, Part 3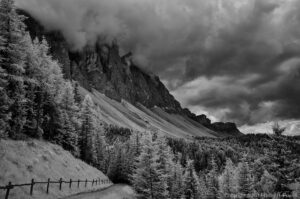 The next day, we took the bus to the end of the road, and went for an approximately 7-mile hike near Santa Magdalena at around 2000 meters elevation.  Here's the trail we took, hiking from east to west: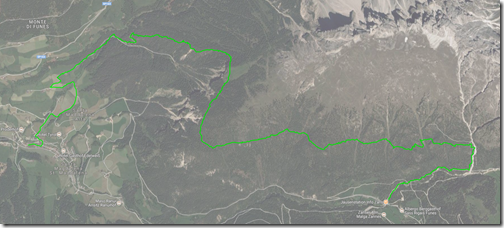 As I mentioned in my last post, the weather turned overcast with a low ceiling, and a nearly constant threat of rain.  The good news is that it didn't actually rain much—a couple of passing showers that lasted only minutes.  The bad news is that we had to imagine what the scenery looked like: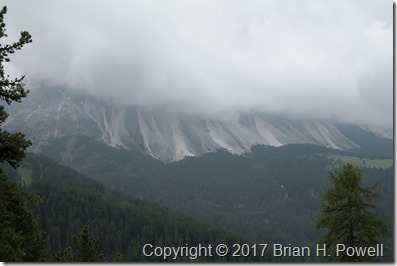 (Click on any image to enlarge.)
Once again, I turned to my infrared Nikon D300 to find elements of drama in the larger scene.  On this trip, I used the versatile Nikkor 18-200mm f/3.5-5.6 lens for all of my infrared photos.  This shot is using a focal length of 65mm (35mm equivalent of 100mm) at f/5.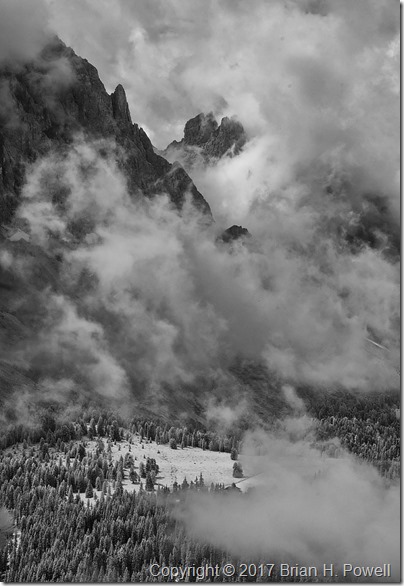 Another approach to photographing with uncooperative weather is to focus on details, such as this flower.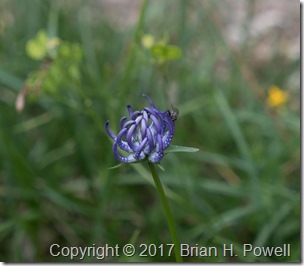 I believe this is a Phyteuma orbiculare.
Common name: Round-headed Rampion
The weather improved marginally as we neared the end of our hike, descending to Santa Magdalena to catch the bus back to the hotel.  The mountains were still in the clouds, but we could at least appreciate more of the scenery.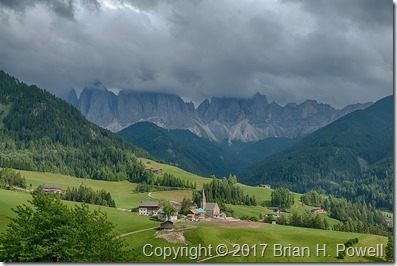 The next day, we hiked again for about five miles in the same area, heading more east: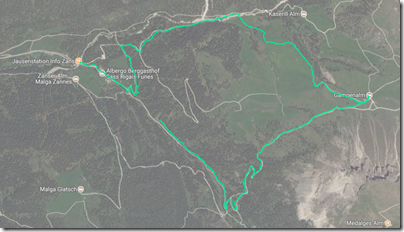 The weather was slightly improved from the day before—the ceiling had lifted ever so slightly, and we saw some blue sky as the day progressed.
Here's my favorite infrared photo from the day, with the brooding clouds hanging just at the top of the peaks.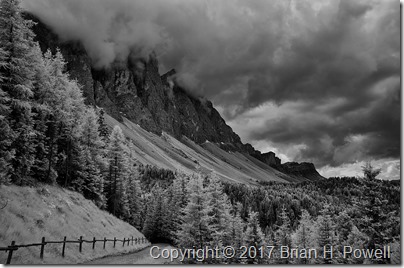 As long as the sky was cloudy, we could switch our focus to scenes that don't include it.  I photographed these waterfalls with a 1/3 second exposure at f/22.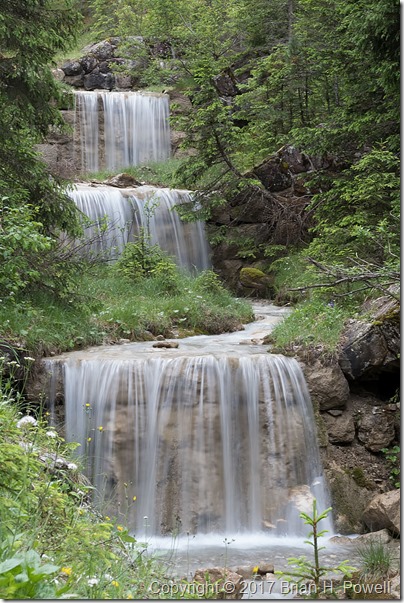 The photo below is a 1/10 second exposure, also at f/22.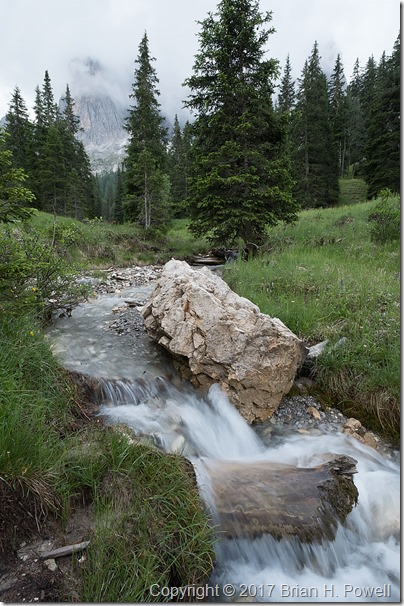 If you haven't figured it out by now, one of the themes of this week was to find different ways to photograph something interesting while having challenging weather conditions.  This led us to time-lapse photography.
Here's a very short video of sixty time-lapse frames.  Each frame was taken 3 seconds apart, and the video below speeds it up by 36x.  I'll have a few more examples like this in later blog posts.
Next up, an afternoon in Ortisei, on our way up to our first mountain hut, the Rifugio Resciesa.