Tucson, Day 2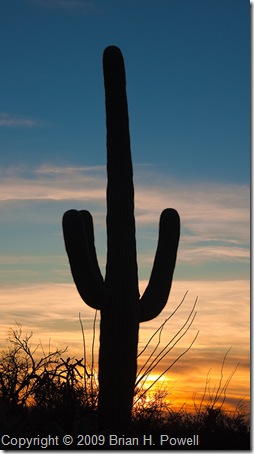 As a musician, I've been trained, in the moments leading up to a performance, to relax—to calm myself, and peacefully contemplate what I'm about to do. It puts me into the right mindset, by clearing everything else out of my head. And then when I'm ready, I can execute the way all the rehearsals taught me to perform.
And so it needs to be with photography. I know my cameras; I can handle most of the photographic situations I'll be in. But if my mind is still back home, thinking about work  or other chores, I won't be ready to make the photographs I know I can make.
Even in nature photography, there's a lot to think about—what's going to happen next?  When's the sun going to set?  Which way is the wind blowing?  What time does this park lock its gate?  What's the hyperfocal distance for this shot?
Today, in the Rincon Mountain District of Saguaro National Park, I had to just say, "Stop!"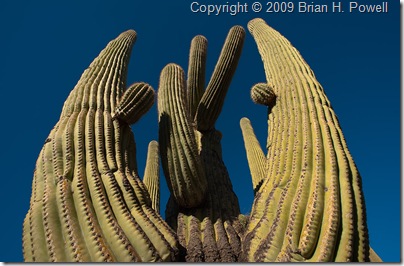 I was standing next to a 30-foot-tall Saguaro, and listening.
The wind was blowing hard.  I stopped to listen to the wind flowing through the needles of the Saguaro.  Wow.  I bet a lot of people go through life never hearing that sound.  Let's listen a little bit more, to the birds, and the squirrels…
A whole lot of nature photography is being patient. It's waiting for the right light. It's waiting for a shadow to move. Or a cloud.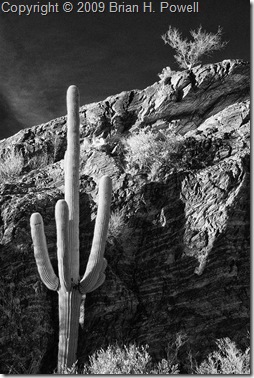 And sometimes, the right light doesn't happen.  Sometimes, the cloud doesn't show up in the right spot.  That's part of nature photography.
But if my mind is open, I will still enjoy what I'm doing. I can listen for the wind. I can watch and listen for the animals around me.
Okay, I'm ready again. Ready to take another photograph. My mind is clear again.