In the Navajo Nation

I left Flagstaff and drove east and north through the Hopi Reservation and Navajo Nation.  Near Kayenta, I stopped to take this infrared photo of Church Rock, with El Capitan (Agathla Peak) in the background on the right.  I used my Nikon D200 converted to infrared by Life Pixel.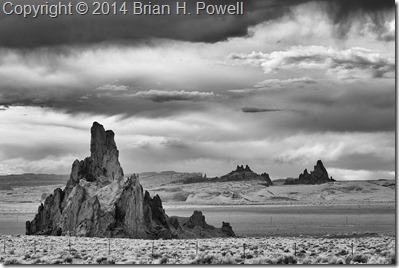 (Click image to enlarge.)
My destination for the day was Monument Valley.  This area has been used in many films—mostly John Wayne westerns, but also Back to the Future, Thelma and Louise, and others.  Monument Valley was a frequent subject of photographer Josef Muench, the father of David Muench.  Josef's photos were used by Harry Goulding to entice John Ford to film many of his westerns in Monument Valley. I did an oral history interview with David Muench earlier this year, so it was interesting to visit a place where he had spent so much time with his dad.
Here's a panorama of Monument Valley, taken with my Fujifilm X-E2.

On the far, far right of this photo, the farthest mesa is called Hunt's Mesa.  That would be our destination for a cold, windy camping trip the following night.  More to come on that in my next post.
Edit:  Here's a map showing the location of that first shot above, courtesy of the Photo Transit app. (Click to enlarge.)